As South Africans approach the ultra-distance marathon season, starting with the Old Mutual Two Oceans next weekend, the Run Injury Free programme in conjunction with Power Plate gives runners the tools to prepare, compete and recover knowing that they are going to remain injury free.
New York-based Dr Emily Splichal is currently in South Africa heading around the country with the Run Injury Free Programme, educating biokineticists, trainers, coaches, and runners about how it works and how the Power Plate is such an integral part of the process.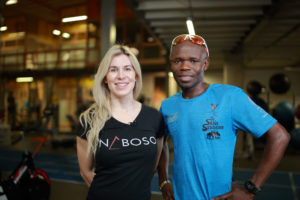 "To date most running programs focus on biomechanics and technique, however very few are looking at these injuries as how they related to neuromuscular control," Dr Splichal said. "The Run Injury Free Programme by Power Plate and Naboso Technology is the answer to preventing running injuries from a neuromuscular perspective.
"Naboso Technology has partnered with Power Plate to bring a new approach and perspective on running-related injuries.
"70 – 80% of runners will get injured at some point during their running career which means the prevention of injury is critical in this population."
The Run Injury Free Programme is being launched around the country as runners gear up for the upcoming Two Oceans and Comrades Marathons. The most important element of the programme is that it is not specifically aimed at elite athletes.
"All runners regardless of fitness level or running distance will benefit from the Run Injury Free Programme," Dr Splichal stressed. "All runners require the same stabilization and neuromuscular coordination to meet the repetitive impact of running.
"In fact, all movement, including walking and jumping have similar demands on the neuromuscular system which means this program would benefit not just runners."
Power Plate hinges on three major components, prepare, perform, recover. The Run Injury Free Programme too follows the same principals.
"Run Injury Free is our way to help runners, number one, better understand the demands of running, number two, better prepare their body to meet these demands and, number three, more effectively recover to offset stress and injury risk.
"It includes our pre-run prepare section which is done before the runners put on their shoes and start running, the post-run recovery which is intended to more effectively reduce the stress associated with running.
"Then the two workouts that challenge the stabilization and muscle activation demands of running and finally, the recovery core flow to focus on increased core strength and total body flexibility needed for running," she explained.